Apple on music companies: I'm with stupid
As most other bloggers in this country had realised before me: woohoo, iTMS is available in Oz! Finally I have a compelling reason to go get a credit card.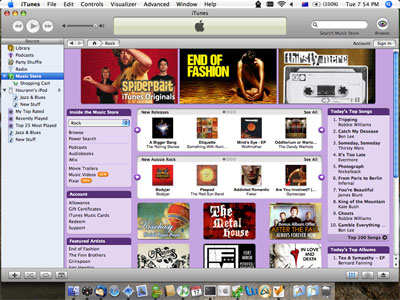 For proof that the music companies are refining the delicate art of shooting themselves in the foot, witness that here, as in Japan for a few months, Sony/BMG are refusing to jump on board.
For more proof: Albums cost $16.99 and single tracks a whopping $1.69 ― compared to the standard US prices of $9.99 and $0.99, this means that in music-company la-laaa land, the Australian dollar is worth 58.6 US cents. No wonder Ian Dickson left that biz to pursue a TV career; at least TV execs in this country have their heads screwed on (well, not all of the time).
(Of course, I'm ignoring the possibility that Apple themselves are behind the higher prices. But Apple in Australia are a tiny offshoot of big Cupertino, and the fixed costs of the Australian and US stores probably aren't any different, since a simple netstat says they both come off the same server farm.)