National holiday huzzah!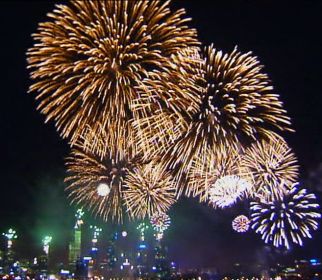 Australia Day yesterday was a bit of a mixed bag. Unlike most of the LJs I've been reading today, I didn't think the fireworks sucked (they really weren't too far behind Sydney's New Year show), but then I tend to be impressed by anything that's shiny. 'Tis true that there were long periods of only a few explosions at a time, but there were also several new pyros that I'd never seen before.
But in the Hottest 100: Bernard Fanning, meh. I guess I'm not surprised, but few of the other Hottest 100 winners are quite so … bland. At least Wolfmother made a fairly good showing, in line with just about every prediction that I heard.
Meanwhile, Marcos Baghdatis is a hell cool champ, even more so than Chela was last week. Although no one seems to care that Cyprus is some seriously disputed territory, it's really funny to watch Melbourne's entire Greek community descend, half-drunk, on Rod Laver Arena and claim him as their own.
Afterwards, despite it being a suckey delayed telecast, the Hingis/Bhupati and Perry/Stubbs game was impressive for its super-fast pace. I'm also impressed that Clijsters didn't just blame Rebound Ace for losing a match when she still had a strong chance of winning.
(Speaking of the tennis, PointTracker is the only cool thing on the otherwise poorly-built official site. It's a completely pointless Flash animation, but it's strangely enticing …)