Comet! (and some tennis ramblings)
I'd been thinking of mentioning the flag "ban" at Sydney's Big Day Out, but everything I thought of has already been said.
So I shall post a photo I took last Friday of Comet McNaught, from an outstanding location for amateur astronomy — namely, the roof of my parents' house.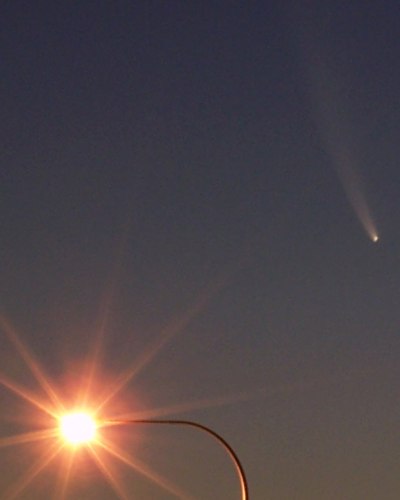 (Awesome pictures by the dude who discovered it may be found here.)
Unrelatedly, the Australian Open has been throwing a few surprises. The biggest of these, for me at least, was seeing Marcos Baghdatis play a weak game to lose in the second round. At first I thought that Gael Monfils was going to replace him and become, if you will, the Baghdatis of this year's Open (Jim Courier was right to describe him as "fun to watch") … but then he lost his next game. Against Baghdatis he had the same determination and spark that got Baghdatis through last year, but against the (admittedly more experienced) Gasquet, all that energy seemed to vanish.
Later, the awesome game between Andy Murray and Rafael Nadal (why on Earth did it start at 10pm?) had me thinking that Murray might become this year's Baghdatis, because he was playing an awfully clever strategy. But then he lost his nerve in the fifth set and it all fell apart.
Tonight's game, though, saw Nadal fall (surprisingly quickly!) to Fernando Gonzalez. This has me thinking I've found my new source of Baghdatis-style awesomeness for this year — particularly considering the players he's beaten so far.
Thus, what I'd like to see in the men's final: Gonzalez versus Federer, in a clone of last year. The upstart won't be good enough to dethrone the ice man, but we'll all be amazed at how well Gonzalez plays regardless.
And for the women's final: a three-set thriller whereby Serena Williams plays well enough to prove that she's made her comeback, but Kim Clijsters scrapes through to end her career on a high.
P.S. thank you Adobe for finally updating the Linux version of Flash Player! (But curses for taking so long.) This allowed me to actually use the official Open site enough to make the links above …