Opportunity comes knocking, but the Premier doesn't notice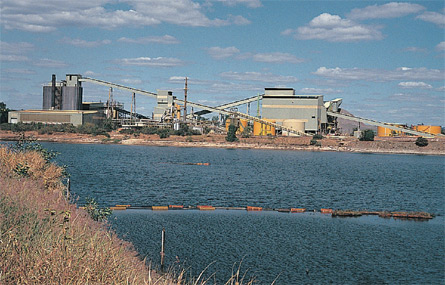 The hideous devil that Alan Carpenter is protecting us from; photo by Stephen Codrington
A few days ago, it was reported that the European Union's ambassador to Australia would use his trip out west this week to mention that his crowd would be interested in buying uranium from us, if we offered. Today, Alan Carpenter's response has been to keep his head in the sand, insist that the sky will fall if we add uranium to our list of exports, and mumble something about preserving a power source for the future. (This is separate from the question of nuclear power for WA: I'm inclined to think that since we have relatively small requirements, and it takes ages to build nuclear plants, we should just jump to renewable technology — assuming local producers can get over their obsession with coal.)
Europe isn't like China or India; it has lots of existing power stations that won't go away in the next few decades, and it needs supplies from a place that isn't planning civil war anytime soon. All of the world's nuclear reprocessing expertise is in Europe, so it's safe to say that radioactive waste will be properly managed.
The hand-wringing about whether we'd be asked to take back that waste is touching, but I see no stampede by plant operators wanting to offload onto South Australia or the Territory. More importantly, though, is uranium really the only natural resource for which we should get morally antsy about supplier responsibilities and end-of-life concerns? (All that iron ore leaving the Pilbara goes straight to Chinese steel mills which don't exactly have perfect environmental records, then onto building sites that'd make an Aussie union heavy faint). And while uranium mining is definitely dangerous, it's not that much more so than other mining processes we happily tolerate. (Until recently, no one in Perth had heard of the lead mine at Wiluna). It's also worth noting that there's already a (small) waste dump on the Nullarbor.
So I have a hard time seeing any logical coherence in the continued opposition to uranium mining in WA.