Fixing the city centre: not a State priority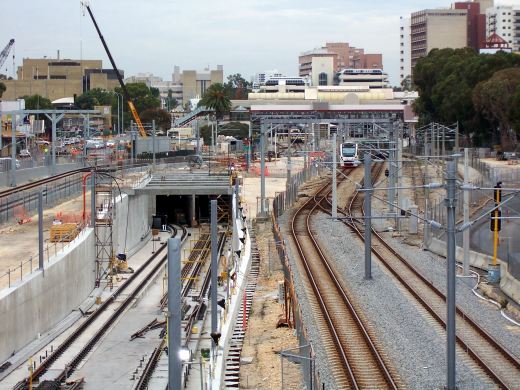 The coverage of the State budget in today's West Australian looks to me like little more than a jumble of ill-considered low blows — for example, Mike Nahan (who sounds increasingly like a Liberal lackey with every column) criticises it for not being as reformist as the Federal budget, without stopping to note that Tuesday's biggest reform was allowing the ATO to pre-fill our tax returns so we can file with one click (great though it is, it's hardly earth-shattering).
But today's paper did reveal something that I didn't have time to confirm yesterday: no funding has been allocated for the new footy stadium, the still-under-wraps foreshore development, or most worryingly, the Northbridge Link project. Assuming the project goes ahead, the earliest anything could happen is July 2008. And that would require it to be funded in next year's budget — which may well focus on vote-buying measures for the February 2009 election instead.
So the vista above is likely to continue looking like that for a while. Possibly a long while. Now I know what Charles Landry was on about when he said that Perth's immense potential is "blocked in innumerable energy-draining ways".
(Also in the "budget WTF" category: the $100 million over five years that the Premier promised to deal with climate change looks all the more feeble when you realise that $88 million is to be spent in the next 12 months on our coal-fired power stations. In fairness, some of this will go to efficiency-improving measures, but it still makes the "commitment" look awfully lame.)