A summary of what happened in Gaza this week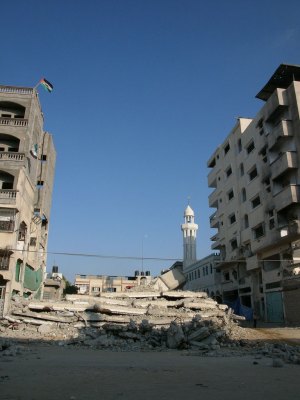 Gaza City in 2004; photo by excauboi
Up until earlier today, I could tell that something significant had happened in the Middle East, but I'd never properly understood the conflict — so here's a super-simplified summary of what I've learned.
The territory around Israel controlled by the Palestinian Authority is broken in two: the tiny Gaza Strip on the west coast and the West Bank to Jerusalem's east. In elections last year (required by the 2002 peace deal), the Western-supported Fatah party were trounced on the back of perceived corruption, leaving its main opponent Hamas in charge. Foreign leaders tried to cut Hamas off, since it most frequently appears in the Western media for organising suicide bombings.
Despite efforts to form a unity government, tensions between the two parties rose last year and a civil war has raged for much of this year. This culminated in a battle this week for control of Gaza, and as of last Thursday, Hamas claims control of the Gaza Strip.
It's not clear what'll happen next, but I'm not particularly optimistic, and there's already talk of the Palestinian cause fragmenting into two. Fleeing his Gaza City office, president Abbas tried to dissolve parliament and declare an emergency, with Israel stating interest in dealing with a Fatah-led West Bank. But it's not clear whether Abbas will be able to consolidate power, and the result may be yet more instability.