Aunty's news service moves into the modern era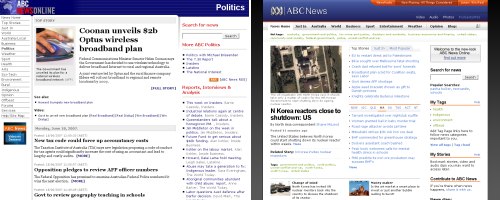 The ABC News site has traditionally done things well before our "yes we're with the times honestly we are!" commercial news services, but they'd been slipping a bit lately with their clunky six-year-old design. As of today, they have a new design with more efficient use of whitespace, better searching, and fun AJAXy features. Oh, and it validates now, too.
But just like The Guardian, which dropped its mid-90s look last month to vocal consternation among the supposedly more loyal members of its audience, this move has wrought a rash of negative comments on the site. A few criticisms are sensible — it is annoying to not have lists of headlines from each news category on the front page, and I was fond of the old Politics category. But some are just silly: "I have to learn a new interface all over again, and I hate that … I might as well use MSN now".
(From a user-experience point of view, this is not surprising: learning new things has a high cognitive cost and it's a rule in interaction design that users want this minimised. But from a stop-and-think perspective, you'd seriously stop reading the ABC in preference to the unbiased quality of nineMSN?)
Not only does the new design bring ABC News up-to-date with current best practice, it leapfrogs the commercial sites with new techniques. One small example is that they're integrating Google Maps with some stories, which isn't much use in a story about Melbourne but is great for events from small country towns.