Who chose that typeface?
No, I haven't neglected to pay the ISP bill; rather, I've been caught up in a string of events that scarily resembles a bad soap opera. For this post, indulge me a bit of introspective rambling about graphic design on public transport. (Hey, they do it in London and New York, so why not here?)
After a "how do you like the timetables?" survey a few months ago, there's a new look for the recently-changed northern and eastern timetables (like Northern 67) and some of the bus stops in Fremantle. Aside from more sensible folding (yay!) and slightly more colourful maps, the new design drops the quintessential British typeface Gill Sans in favour of the freeway-signage clone Interstate.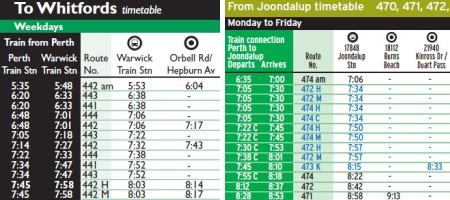 I've been a little surprised to see this typeface (and cousins like Transit) appear more often in recent years, in places as unusual as corporate reports and fashionable Web-dev pages. And while I am biased against it (alas, I like humanist sans-serifs), I worry that this change makes the big list of numbers less readable than it used to be.
At the least, I suspect they could have taken more care with line spacing and sizes (stop numbers, for instance, could be de-emphasised). Or maybe it's just me who scrambles to the timetable rack trying to read in the few moments before I miss the bus.
It is, IMHO, a bit like when they dropped the old stripey-T logo a few years back (which is still on one ferry and a few old buses) — the replacement isn't bad, and it's modern, but it lacks the elegant practicality of the older style.
(And on that note, WTF Qantas? Maybe your typeface was a bit old-fashioned, but why change a symbol with both history and megabucks of brand-awareness behind it?)