Thursday 30 August 2007 at 11:27 pm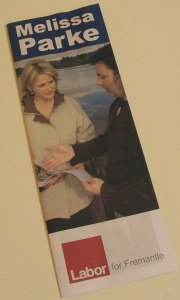 Party propaganda is hardly surprising given the upcoming election, but as soon as this flyer landed in my mail last week something didn't seem right.
Ostensibly, I'm being notified about my new Labor candidate now that Carmen Lawrence is retiring … but looking through the text, that matter is dispensed with in three sentences. In fact, the flyer's really about Kevin Rudd being a great leader, and his grand plan for a wonderful and prosperous Australia, and don't you think this is wonderful too and should therefore vote Labor?
This didn't sound very grassroots to me. And it was followed by the "my industrial relations rules are better!" TV ads of two days ago, in which the Ruddster was the only speaker and Julia Gillard the only other Labor face to appear (for all of three seconds).
Heck, this last week was also the first time I can remember reading a newspaper article quoting Labor's foreign affairs spokesperson (Robert McClelland, apparently). Aside from the rock-star environment rep and the oft-parodied second in command, does anyone actually know who's in the shadow cabinet?
This campaign is increasingly looking to be a race between one man from Queensland and That Other Lot, and I have to wonder whether the populace really love the Ruddster that much …