If only we could be so lucky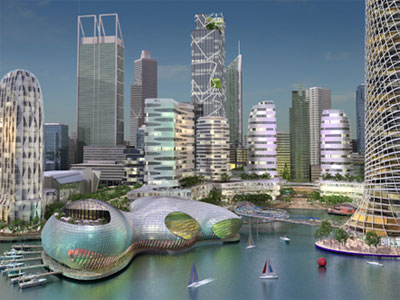 Aside from the apology in Canberra, Wednesday's big news (from the State government) was the announcement of the less-tentative plan for developing and cleaning up the waterfront near the convention centre. The Premier used a(nother) business lunch for the announcement, and his office even organised a flashy Web presentation to sell it!
If it goes ahead as proposed, it'll be awesome. But that assumes it doesn't get shouted down on grounds of price — the touted $300m sounds ripe for blowouts. For instance, the pictures suggest a cable car from the foreshore to Kings Park (a superb idea!) which I doubt has been included in the figure.
And then there's the parts that depend on private investment; the pictures all feature a bunch of skyscrapers (including a whopping big centrepiece looking like 2 IFC in Hong Kong) that won't get built if the market remains how it's been the last few years.
All in all, though, this announcement is a nice complement to last week's confirmation that a stadium will get built, and at Subiaco (which certainly isn't a bad site). But the even more interesting part of that story was the half-billion dollar museum at East Perth, which (if done right) could do far more for the city than any stadium can. For both, though, I'll reserve judgement until there are actual plans …