President Obama!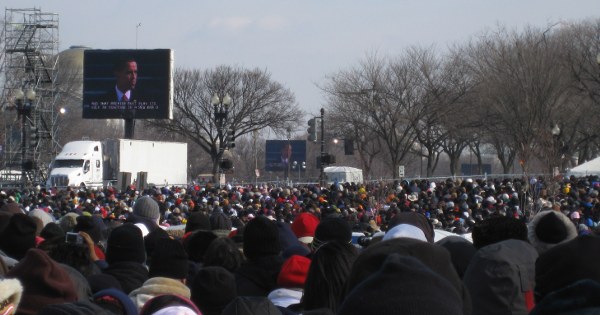 The presidential inauguration was pretty cool! I thought it particularly amusing that every time George Bush appeared on the big screens, the crowd booed! They booed a little less at Laura Bush (and at George Bush senior, before they realised who it was). When Hilary Clinton appeared, they cheered! Then when Bill Clinton appeared, there was raucous applause! And when the Obama family showed up, the crowd went wild!
(And, about half an hour after the ceremony, that same crowd jeered at the Marine helicopter flying over the National Mall to carry George Bush out of DC …)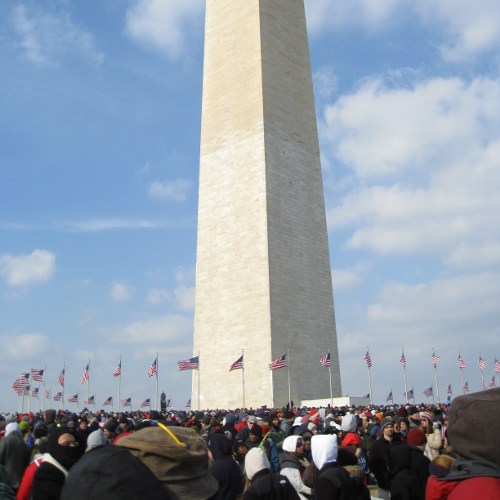 Unfortunately, the DC authorities aren't very good at managing big public events. Or more likely, they're so paranoid about security that they forget how problematic it is to throw up random roadblocks, close Metro stations, and fail to provide clear directions …
But there did not seem to be a single soul in town unhappy at who it was taking the presidential oath — the mood was festive and very upbeat! So much so that the footpaths were lined with people selling cheap trinkets, from Obama t-shirts to stickers to tote bags to condoms!
And the upbeat mood wasn't limited to the capital! In Chicago, Obama's face was on every street and in every shopfront! And at Phoenix airport, on my way back, passengers and staff alike were glued to the TVs showing post-inaugural coverage!