Wednesday 4 January 2006 at 8:38 pm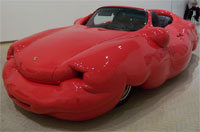 Here in Sydney, the Museum of Contemporary Art is cool. It features lots of crazy photographs, interactive art (woo!), and a sculpture of a funky fat Porsche.
Meanwhile, Taronga Zoo is also cool, has cute snow leopards and red pandas, and even puts on a seal show to rival Sea World.