Wednesday 10 January 2007 at 3:42 am
I think every Mac nerd in the world just experienced some form of out-of-body nirvana-like experience.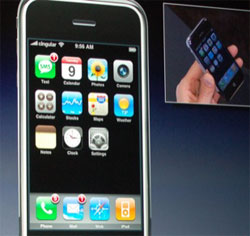 Steve Jobs' Macworld keynote (which isn't even finished) has just confirmed that Apple are releasing a mobile phone, it will indeed be called iPhone, and it is quite literally years ahead of what other phone manufacturers are putting out.
So awesome is iPhone that its announcement will overshadow the even bigger news from MacWorld — the Apple TV set-top box, which is equally game-changing, and Apple's new partnerships with both Google and Yahoo, which IMHO will mark a big shift in the computing industry.
But back to the phone: it's tiny! It has 8Gb of storage for music and movies! The reports say it runs OS X! (though it appears to be a mobile version thereof.)
And it has a multi-contact screen, so you can move or zoom or rotate things by touching them!