Sunday 23 July 2006 at 10:29 pm
I've long had my doubts about e-tax, the Tax Office's supposedly "easy" solution for lodging individual tax returns electronically. Not only is it a Windows-only application, it's a poorly designed Windows application. Heck, that much is obvious from the kludgy Win16-style interface.
But this evening I discovered just how poorly designed it is. Suppose your default printer in Windows is a network printer, in my case a home multifunction shared over plain old SMB (the default Windows printer sharing). Supposed said printer and the computer it's attached to are offline, because you have no reason to turn them on right now. Try opening e-tax.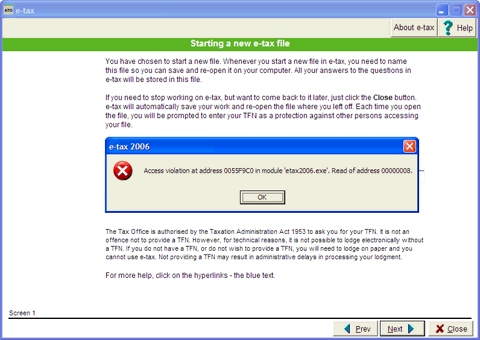 You get the delightful message "access violation at address 0055F9C0 in module 'etax2006.exe'. Read of address 00000008."
Solution: change your default printer, or turn on the network printer. Cos, you know, you absolutely must have a printer ready and raring when you type in your tax file number.