ASCILITE day 2: food glorious food!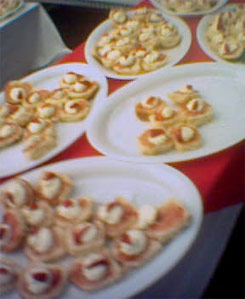 So my major discoveries after my second day at an academic conference are …
Educational theory is much harder to understand — and uses much more complex jargon — than I'd previously thought. Constructivist pedagogy, indeed.
Uni lecturers are worse than students when it comes to leaving rubbish in lecture theatres. They're also worse than us at turning off or silent-erising their phones (heck, even one of the speakers today admitted his phone was on!). And yet they complain about us!
Everyone from Sydney thinks that Perth weather is really hot, even though Sydney's supposed to have a similar climate (and besides, it wasn't that hot today …)
Despite being supplied by Guild catering, the free food is awesome. Tim Tams (!), blueberry muffins, scones with jam and cream … dang it, I have to get me some more of these cushy conference jobs!