Charles Landry hands down his verdict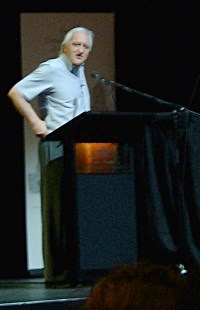 This evening I was at the Maj to listen to Charles Landry report on his findings from applying his expertise in the evolution of cities to our fair settlement. As proof of the fact that he's struck a chord in his short time here, all 900 seats of the stalls and dress circle were filled.
(Incidentally, Mr. Landry was in residence in Adelaide and Canberra before Perth … I wonder if they took to him so strongly? Or are their growing pains less severe?)
His presentation was charismatic and engaging, even when he repeated oft-cited observations — that Perth is ideally placed for an Asia-centric future, and that if we continue growing as we are there'll be nothing but suburbia for 100km in every direction — and recycled one-liners from the essays he's written for the West Australian. He expressed dislike for Perth's many concrete-blob brutalist buildings (think Alexander Library or Sir Charles Gairdner Hospital), citing them as examples of a Perth that is uninviting and saying "no". And while I agree entirely, his critique of our architecture was the most controversial part of his speech — when he said that that coloured house by Scarborough Beach was a move in the right direction, there were several incredulous scoffs from the crowd.
I haven't yet read his report in detail, but it seems to build on ideas that he's described before, and it's safe to say that it lays down a positive new way of thinking about our city:
What is Perth doing to future-proof itself? It is understandable that the resources super-cycle can blind people to looking ahead, and it is easy to be swept along by the wave of prosperity and become complacent. Are the education resources of Perth treated as a strategic export industry? Are the creative industries seen as crucial to Perth's well-being?
Walking away from the theatre, the gentleman I spoke to (I neglected to ask his name, although he's active in arts administration?) had the same question on his mind as I did: what's the next step? I think the simplest of the many take-home messages from Charles Landry is that generally speaking, we are short of culture — not that we lack great musicians or interesting sculptors (quite the contrary), but that their presence can't be felt when wandering around Perth. Thus, we should get behind any initiative that makes the arts more accessible to people, whether it's a traditional idea like sculptures on footpaths or a more eccentric one like painting buildings (or projecting onto them).
His other suggestions are harder for lowly plebs to support: for instance, Landry supports green roofs and solar panels on buildings, but that's up to owners more than anyone else. He's also as scathing as he can be of the clutter of bureaucracy and regulation that chokes our city, making it into a "no" place that stifles creativity. Indeed, I was horrified by his anecdote about visiting Woodside Plaza and taking some pictures, only to have security come over and question his presence (can you believe it's common practice?). But regulation "spaghetti" is a systemic problem that can't be overcome without englightened souls high-up, unless there's overwhelming public pressure — which, admittedly, is something we can all contribute to.
And something tangible that you (yes, you!) can do right now is to sign FORM's petition. It's horribly vague and devoid of tangible demands, but it is at least a reasonable start in terms of indicating support for the kinds of changes that Landry has suggested.